http://www.morganton.com/sports/coach-tate-foundation-wraps-up-annual-football-camp-with-/article_ef8937b2-38c2-11e6-8b44-1301b1e3ce5d.html
Coach Tate Foundation wraps up annual football camp with 150-plus attendees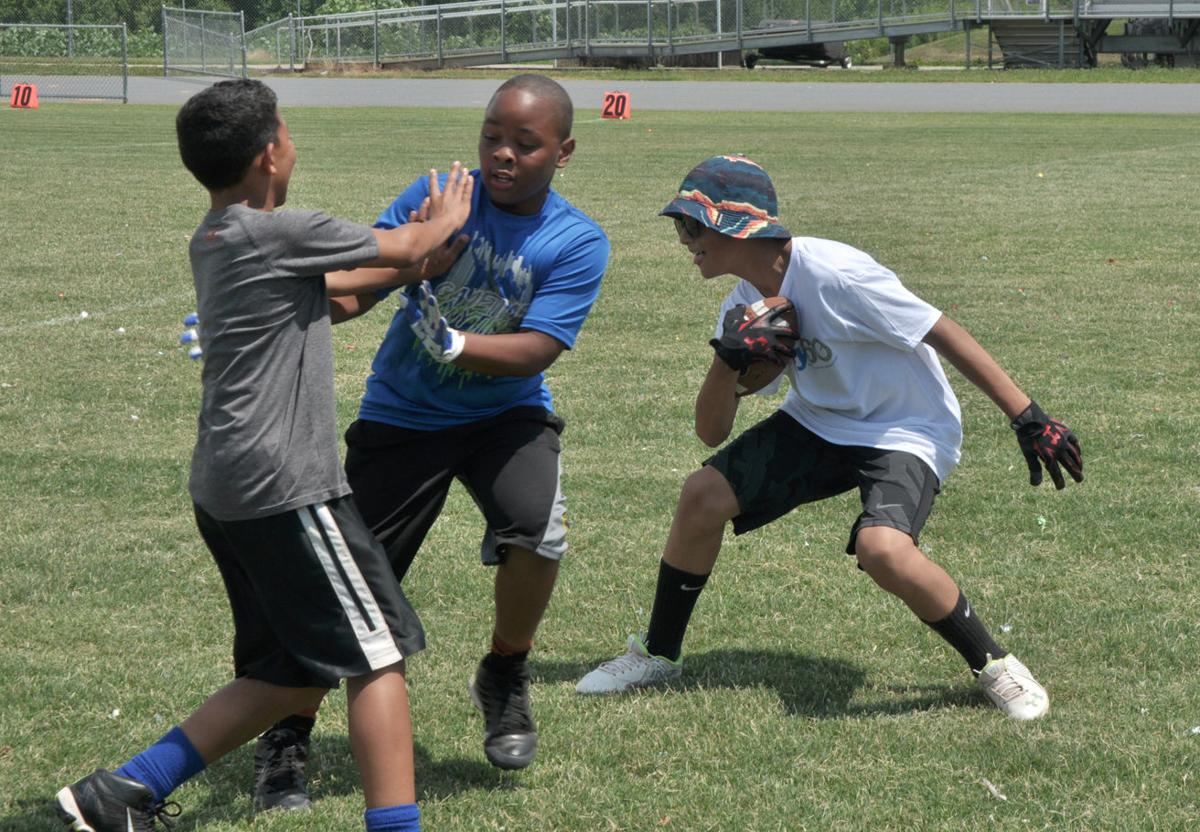 A camper goes up for a one-handed catch Tuesday at Patton.
Local children learned valuable lessons for on and off the football field at the Coach Tate Football Camp at Patton High School in Morganton this week. Approximately 150 campers took part in the activities, which came to a close Tuesday afternoon.
The fifth-year football camp was free of charge for the first time this year, and the age range was expanded up to 18-years-old. Those changes were made at the suggestion of Washington Redskins defensive lineman Kedric Golston, who has served as the head coach of the camp for several years.
Golston said he wasn't concerned about money, but rather with helping kids and giving back to the community. He said he didn't want money or age to prevent kids from participating.
"We understand the hardships in this community," Golston said. "We want to open it up to as many kids as possible. I just think it's all about the kids. It's not necessarily me. It's the volunteers, it's the parents who bring their kids out here to give them an opportunity. I'm a big proponent of teaching life lessons through team sports.
"To be able to come out here and give back to this community is something that I think is really important because the limitations these kids have are only the ones we put on them and the ones they put on themselves. We just get out here to try to get them to open up their thought process and their mindset to know that they can achieve whatever they put their mind to."
Golston said that despite the heat, the campers put forth a great effort. He said the camp was definitely a success.
"The kids have worked their tails off," said Golston. "It's been hot. We've asked them to do a lot. They've come a long way in a short time. Like I told them today, these are just steps that we give them, and hopefully they can continue to walk the walk once I've gone back home and once they don't have this atmosphere. (I want them) to use what they've learned in this camp in every-day life."
Camper Andrew Villapando said he had a good time at the camp. His favorite football team is the Oakland Raiders.
"You have a lot of fun," Villapando said. "You learn discipline and respect and honor. At the same time, you're getting with your friends, meeting new friends and learning that you're not the only one out there who has talent."
Camper Matthew Smith said he learned a lot at the camp. Smith said he'd like to attend the camp again next year.
"I learned some new drills," Smith said. "I learned how to catch the football better."
One of the new coaches at this year's camp was Shanode Williams. With a background in nonprofit organizations, Williams was able to bring his knowledge to this year's camp. He said it was a fun time for all at the event.
"It's been a great few days," Williams said. "I feel like (the campers) are having a lot of fun. I've been working with them and teaching the fundamentals not only of football, but teaching the fundamentals of life.
"That's one of the main things we do with Coach Tate is giving (kids) a foundation to build (upon). We give them the structure and the tools to be successful in life. Sometimes, things get hard, but you've got to fight through it. What better way than to use football, right?"