http://www.morganton.com/community/speakers-offer-inspiration-at-nfl-wives-and-moms-community-luncheon/article_095d4c6a-3c82-11e6-b3b9-2fc1a45fa855.html
Speakers offer inspiration at NFL Wives and Moms Community Luncheon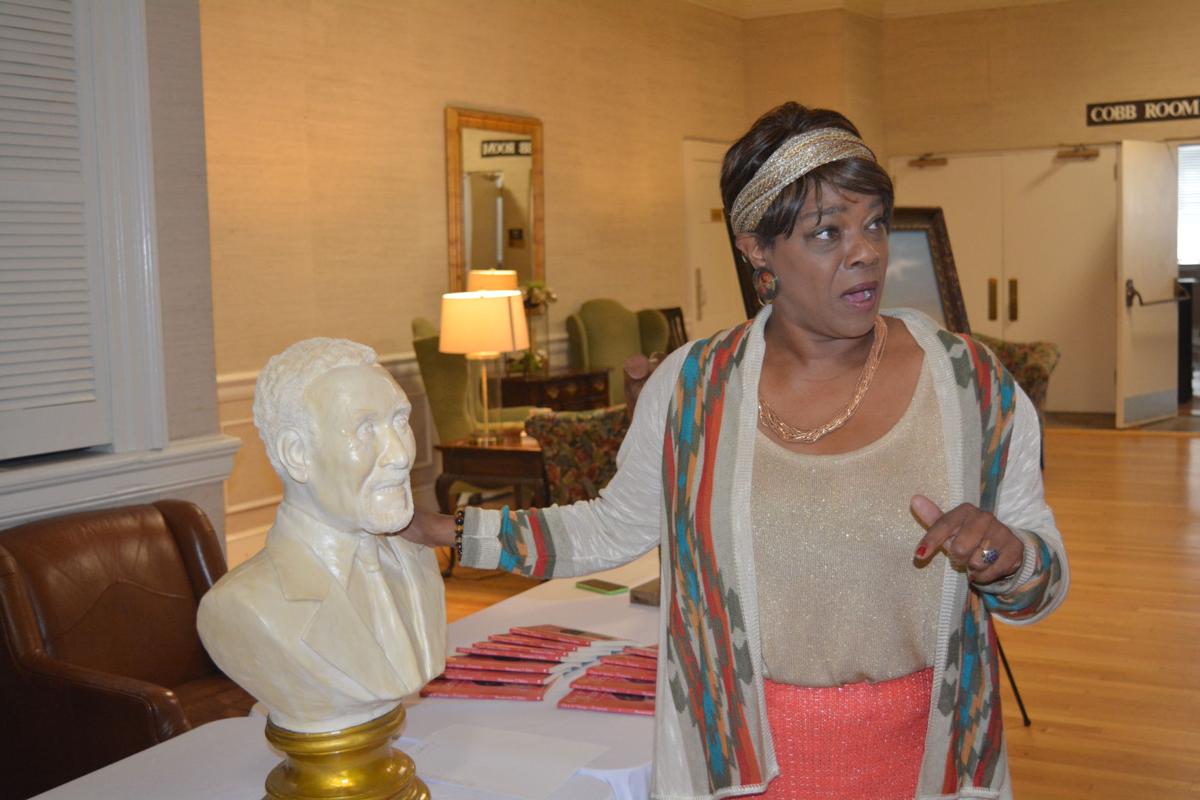 As area children were being coached and mentored at Patton High School in the Coach Tate Foundation's NFL Youth Camp, the organization's founder Phrantceena Halres hosted a luncheon at the Morganton Community House on Monday, June 20, and welcomed speakers that shared stories of success made possible by dedicated mentorship.
The Coach Tate Foundation was started in memory of Johnny Thomas Tate, who was a local coach at the R.O. Huffman Center in Drexel for decades, as was previously reported in The News Herald. Halres, who is Tate's daughter, runs the organization that "provides scholarships, leadership development and character building for student athletes in Burke County."
Halres explained how she is trying to spread the availability of good mentorship like her father offered to so many during his lifetime, and that she received from him and others.
"One of the things that my dad was very proud about was being able to reach those disenfranchised children that didn't otherwise have that opportunity to have good health or wealth." Halres said. "These kids today don't have mentors. They don't have anyone that looks like them or speaks like them, and so we're here to bring that together in Burke County."
Part of realizing that dream for Halres is acquiring land to build a sports/arts complex that will be available to all children in the area and will facilitate the mentoring and guidance that will help them succeed in life.
All of the speakers at the luncheon talked about the importance of having positive influences and role models in their lives.
Christal Golston, real estate business owner and wife of Washington Redskins player Kedric Golston, spoke about her childhood that included living on food stamps and being homeschooled at night with her siblings so they could work in their parents' business during the day. She grew up watching her parents make sacrifices so their children would have what they needed to thrive.
She shared her belief that there is really no excuse for not becoming successful.
"I was a single mom in an abusive relationship," Golston said. "I could have used that as an excuse my entire life and said, 'I have so many obstacles against me, how am I ever going to make it in life?' But four of my siblings went to major universities. I taught myself real estate while working as a nanny. You can't keep anything as an excuse for why you're not successful in life. You are not entitled to anything. You need to work your butt off, and never give up. That's what we need to teach our children."
The Hon. Judge Shirley Fulton, whom Halres introduced as "the first female African-American judge appointed in the state of North Carolina," shared how her childhood filled with hard work on a cotton/tobacco farm prepared her for the hard work she encountered in earning a law degree, which she said she wouldn't have gotten if she hadn't had a mentor invested in her life that encouraged her to do so.
Fulton said her son, whom she raised as a single mother, went into the Navy and went on from there to get a master's degree.
She, like Goldson, warned against the use of excuses to explain failure. She said she would cite her son's example when lawyers in court would use the excuse of defendants being raised by a single parent as a way to explain their behavior.
"Just because you're from a single family, doesn't mean you have to go down a path that is not right," Fulton said. "We (the speakers) are examples of what can be, but it wasn't easy. You have to work hard and persevere and have that knowledge that you can do it."
Fulton said seeing so many young people being tried in court for making poor choices motivated her to create two separate mentoring programs to help at-risk youth become productive members of society.
"I just felt that if they had an adult who cared to walk with them down life's path, then that would have made the difference," Fulton said of the defendants she encountered in the courtroom. "I want to connect kids with caring adults who will spend quality time with them and help them make good decisions that will benefit them in the long run so they can be successful in life. Someone who has a different perspective on life can only enrich you."
Dr. Jerry Bowman, an emergency room physician and friend of Fulton's, shared that he grew up in the foster system without parents, having both good and bad experiences. He said the situation caused him at an early age to seek out positive influences.
"I had to, for the sake of my own survival, start listening to those around me," Bowman said. "I had to, on my own, decide what to take in and what to repel from. I was blessed enough to migrate toward positivity."
Bowman spoke about how the social workers, librarians and teachers/professors in his life encouraged his love of learning and cheered him on to persevere when things got tough. He said a professor of his went as far as paying for him to apply to medical school.
"None of these people were biologically related to me," Bowman said. "I definitely understand the importance of mentoring."
He encouraged those attending to consider mentoring as a positive way to impact the community.
"Because it's not just that I succeed, or you all succeeed," Bowman said. "What's going to determine if we all succeed, as a country, is that we all can see the humanity in each other."